Atmosphere
At the heart of our Italian restaurant stands a lemon tree, a symbol of balance and vitality.
Like the memory of the lemon tree on the patio of the house in Italy, Casa Leya evokes through it the desire to share: couldn't we send secret writings with invisible lemon juice based ink?
Visible from outside the restaurant, this sculpture of driftwood branches welcomes yellow ribbons, glass bubbles, lemons and foliage. Suspended light bulbs animate it from the first floor: a magical and warm atmosphere emanates from this luminous sky.
Around it, the atmosphere is light and subdued, both contemporary and at the same time enhanced with traditional features. The ceramic tiles, antique plates and jars in the pantry remind us of the family homes of our childhood.
The first floor offers a vaulted ceiling in light brick and various lights softening the space, bringing a feeling of warmth and intimacy. In this way, your can enjoy your meal in tranquil surroundings.
Dynamism and smile in one place ? Casa Leya !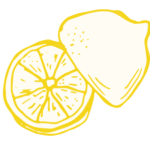 The beige limestone colour dominates and bathes us in a soft and quiet atmosphere. Blue evokes the waters of the Mediterranean and its sky. Lemon yellow sparkles with mischief and symbolizes this citrus fruit, dear to the Italians, whose acidity and cheerfulness awakens all our senses. The whole restaurant is enlivened by the jovial atmosphere of the flower market in the morning and by the festive atmosphere of the Cours Saleya in the evening.
Our two terraces complete the atmosphere of the restaurant. One lively and friendly and the other more peaceful and intimate. These two locations are a real source of sharing and conviviality that will allow those who wish to spend an enjoyable moment.
Welcome to the "mamma" for a meal.